The holidays are upon us, and shopping for gifts for everyone on your list can be overwhelming–so it's tempting to just send gift cards to those hard-to-buy-for loved ones. But, which gift card should you buy?
Of course, stores and banks aren't going to go through the trouble of putting value on plastic cards if it isn't going to generate revenue, so understand what you're getting into. Gift cards can be more secure than cash, but you should make sure you're not paying expensive fees and that the cards can be replaced if stolen.
NerdWallet, a San Francisco based personal finance site, recently completed a comprehensive study of the costs, features and benefits of the 96 most popular gift cards on the market. Here are the highlights of that study:
There are three types of cards: store gift cards, bank gift cards and prepaid debit cards.
If you select a store gift card, make sure the card can be replaced if lost or stolen (preferably without a receipt) and that the store doesn't charge you a fee for shipping the card.
Bank cards are more likely to be replaced if lost or stolen, but a full 100% of those cards carry a transaction fee and many cards charge inactivity fees beginning after 12 months.
Some prepaid debit cards seem to be the worst option, most of them charge either an activation or a monthly fee, and 31% of them charge for every PIN transaction!
The favorite gift card of the study was the American Express Bluebird, but there is good reason to believe that American Express, which offers the Bluebird card in conjunction with WalMart, will begin inching up fees as the card becomes more popular. Also, the card is only accepted where American Express is accepted, so your loved one might face disappointment at the register if they're not paying attention.
The final lesson on gift cards is this: Never, ever use gift cards to give more than a trifle of value, maybe $25, $50 or $100, but not more. Consider cash if you can hand the gift directly to the recipient. If you want to give a gift larger than $100, I suggest doing so via personal check or an interbank or bank-to-bank transfer.
As for me, I'm folding up a crisp $50 bill and handing it to my 12yr old godson this Christmas. If he loses it, he'll cry crocodile tears but it is my hope that he'll learn the lesson of taking care of his money.
For the details on NerdWallet's study, click here.
Also, check out this cool infographic: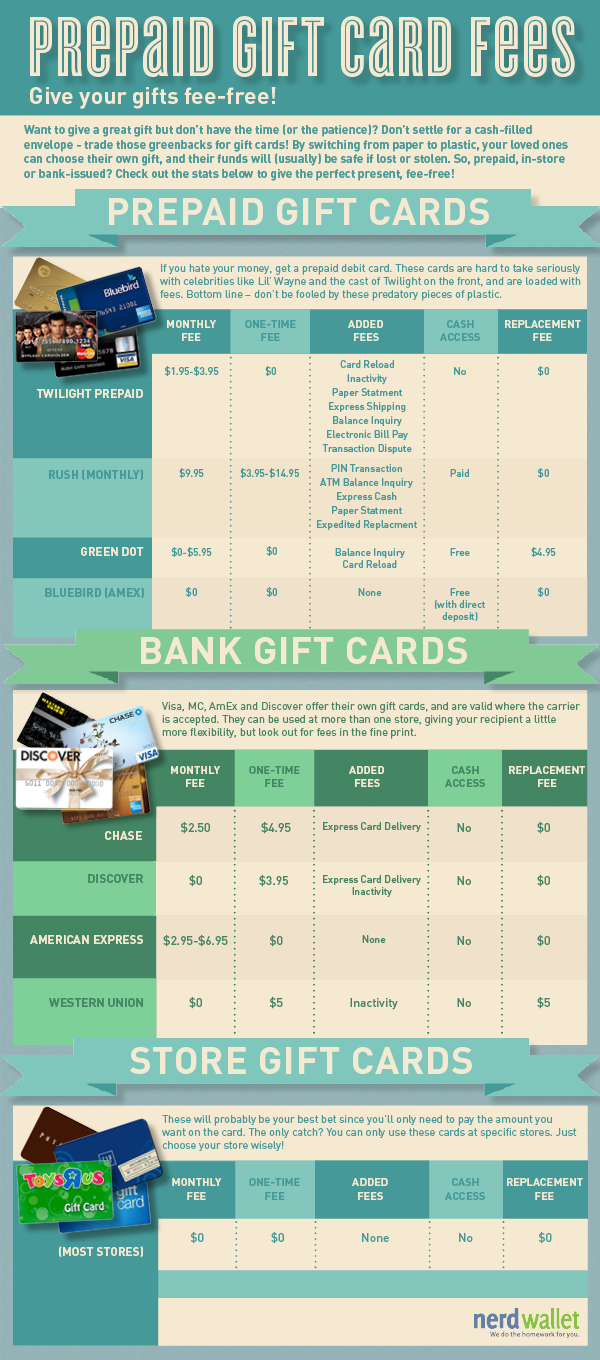 Via: NerdWallet